ClearRay® Replacement Bulb
Product Description
OEM Replacement UV-C Sanitizer Bulb for Jacuzzi® Hot Tubs or Sundance® Spas ClearRay® Water Purification Systems Old Part # 6472-857 Note New Part # 6472-841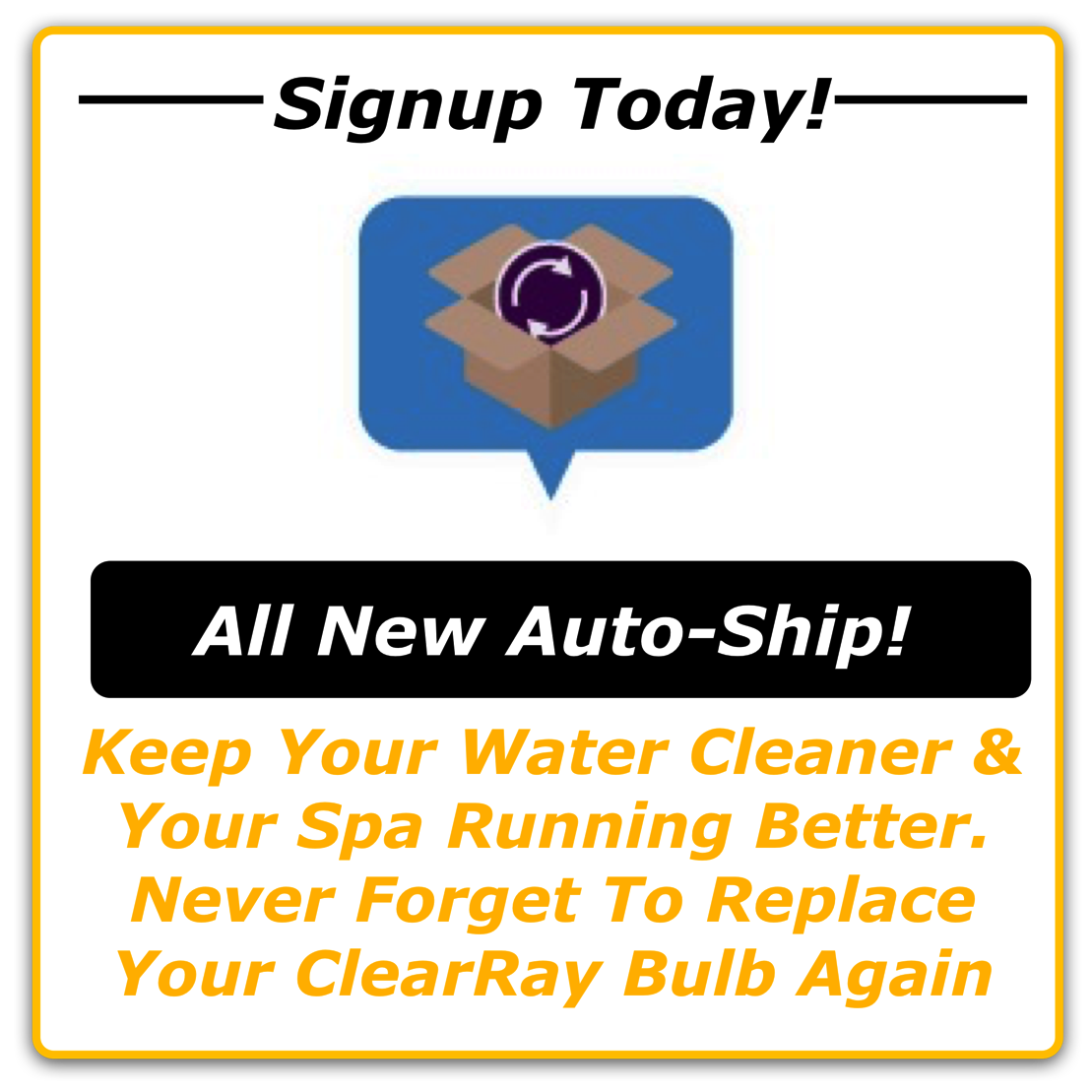 This is an OEM ClearRay® Bulb and not an aftermarket knockoff. Yearly Replacement is Required to maintain effectiveness of the ClearRay® System. Your ClearRay® Bulb is generally installed in the front right corner of your hot tubs equipment bay. On some Sundance® Spas, J-500 Collection Hot Tubs, and 2016+ J-400/J-300 Collection Hot Tubs you will find your ClearRay® installed near the front, center of your spa's equipment bay. Replacement is simple:
Power down your hot tub
Locate your models ClearRay® Bulb within your equipment bay
If you are also going to clean the quartz tube that your ClearRay® Bulb is housed inside of, then it is easiest to drain your hot tub. In some cases it may be acceptable to clamp off the 3/4" plumbing lines feeding your ClearRay® system.
Remove the face plate to your ClearRay® Bulb
Remove the protective boot and unplug your ClearRay® Bulb. Please note: Your ClearRay® Bulb should be recycled at an appropriate location. You can do this at your local Jacuzzi® or Sundance® retailer, select Home Depots, and select Best buys
Your quartz tube should be cleaned at least every other year for light users and every year for heavy users. If doing so, mark the stainless steel retaining nut with a marker as well as the black surround. Then when you unscrew the retaining nut count the number of rotations so you dont overtighten when reinstalling.
Remove the tube, clean, and carefully reinstall.
Next, using the supplied glove, remove and reinstall the new bulb being careful not to touch the bulb with your bare skin which can leave behind oil that will damage the bulb.
Finally reconnect the plug
Fill your spa and check for leaks before closing up the ClearRay® Bulb cover and cabinet
For instructions on resetting your ClearRay® Countdown timer, please visit here.
This was a standard feature on all Jacuzzi® Hot Tubs and Sundance® Spas built 2012+
This includes:
J-200 Collecitons Models: J-210, J-235, J-245, J-275, J-280
J-300 Collecitons Models: J-315, J-325, J-335, J-345, J-355, J-365, J-375, J-385
J-LX Collection Models: J-LX & J-LXL
J-400 Collection Models: J-415, J-425, J-465, J-470, J-485, J-495
All Sundance® Spas 2012+
Please note: ClearRay® Bulb part # 6472-857 is no longer manufactured or offered. You will receive the updated ClearRay® XL Bulb part # 6472-841. This bulb offers 20% more water contact and 40% higher UV output. This is a direct replacement and fits ALL years of Jacuzzi® Hot Tubs & Sundance® Spas equipped with the ClearRay® Water Purification System. You will only need to remove and discard the original&
Product Videos
Product Reviews
Find Similar Products by Category
Customers also viewed